WHEY ISOLATE PROTEIN
28 SERVINGS
BRAND: EVOGEN
Flavour: Chocolate, Vanilla Bean, Banana Mango
When going to every extreme to try to create the most effective whey isolate in existence, you have to go to equal extremes when developing the flavor, even without artificial flavors or sweeteners. Evogen Nutrition has done just that. However, 100% pure proteins that also taste great and utilize the latest technology didn't exist until now. This is why IsoJect Naturals is setting the standard for great tasting 100% whey isolate with only 110-120 calories per serving and no synthetic sweeteners, flavors, or colors.
It utilizes cutting-edge triple cold-filtered whey isolate which undergoes sensitive nano-filtration to preserve the quality of its ultra-pure whey isolate. This innovative processing allows for a higher glycomacropeptide content than ion exchange processing. This peptide is high in branched chain amino acids and has many benefits toward your desired body composition goals.
Evogen CEO, Hany "The Pro Creator" Rambod waited years to release this precision formulation because quite honestly he couldn't compete in the protein market with all the impure products. This was because many companies were not actually using protein in their protein powders. They were relying on low-grade amino acids and creatine fillers that cost much less than protein. High quality whey protein isolate became a thing of the past.
Even worse, as time progressed Hany was having a lot of trouble recommending reputable brands for his clients. However, enough was enough, and despite the growing trend of releasing impure proteins, Hany made the ultimate decision in releasing IsoJect for his world-class athletes and customers around the world. As you've come to expect of all Evogen products only the highest quality whey protein isolate was used in IsoJect.
THE ISOJECT™ NATURALS DIFFERENCE – IGNITOR™ ENZYME TECHNOLOGY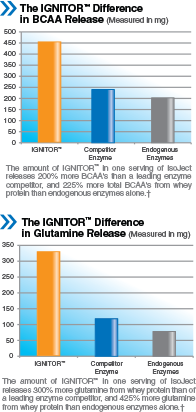 IsoJect Naturals uses "new to the public" proteolytic enzyme technology to maximize protein utilization for critical growth and repair amino acids. These specifically target leucine, valine, isoleucine, and glutamine. This precision enzyme technology ensures maximum release and absorption of these key amino acids for rapid effects.
One of the major issues with athletes, is the requirement for higher protein diets to assist in their growing recovery needs. Often their protein needs can exceed the amount of the enzymes their own body creates. The result is that while their protein intake is increasing, proportionately more amino acids from their intake of protein supplements may not be getting fully absorbed leading to gas, bloating, etc. This is where IGNITOR™ Enzyme Technology can greatly increase your protein powder's effectiveness.
IGNITOR contains a scientifically crafted combination of endopeptidases and exopeptidases which belong to a class of enzymes called aminopeptidases. Endopeptidases hydrolyze protein molecules at the interior peptide bonds, liberating smaller peptides, while exopeptidases hydrolyze the protein molecule at the terminus of the peptide chain, releasing individual amino acids.
The difference between these aminopeptidases than what is produced in your small intestines is that they are specifically designed to act on the bonds associated with branch chain amino acids and glutamine. They focus on those specific amino acids' release into the bloodstream and then on to your recovering muscles. So while these added enzymes focus on critical recovery amino acids in IsoJect, your own body's enzymes can work more efficiently liberating other amino acids in tandem.
This breakthrough IGNITOR™ Enzyme Technology is being brought first to market by Evogen Nutrition. It's enzyme system maximizes your body's ability to rapidly digest protein, facilitate repair and recovery with little to no stomach discomfort. All in all, Evogen Nutrition is redefining the standards when it comes to an incredible tasting ultra-pure whey protein isolate. Try IsoJect, you'll see and taste the difference!
SUGGESTED USE:
Evogen Nutrition's IsoJect is best used as part of a well-balanced diet that includes whole foods and other protein sources. Individual nutritional requirements vary depending on gender, body weight, level of activity and exercise/training intensity. However, in general consuming at least 1 gram of protein per pound of body weight spread evenly throughout the day is recommended.< • As a male who is weightlifting for strength or physique oriented goals, add 2 scoops of IsoJect to 6-12oz of cold water, milk, or other beverage or mix.
Female: add 1 scoop of IsoJect to 6oz of cold water, milk, or other beverage or mix.
As part of a general health and wellness diet, and lifestyle, add 1 scoop of IsoJect 6oz of cold water, milk, or other beverage or mix.
This product is only intended to be consumed by healthy adults, 18 years of age or older. Do not use this product if you are pregnant, expect to become pregnant, or are nursing. Always consult with your physician before using this or any other dietary supplement product. Do not use this product without consulting your physician if you are using any prescription or over the counter medication or if you have any pre-existing medical condition. Immediately discontinue use and consult your physician if you experience any adverse reaction to this product. Do not use if safety seal is broken or missing. Store in cool, dry place away from moisture and sunlight.
* These statements have not been evaluated by the Food and Drug Administration. This product is not intended to diagnose, treat, cure, or prevent any disease.
† When combined with a proper exercise and nutrition program. Please consult with your physician before using this or any other dietary supplement product.